Free Georgia Pre-Kindergarten 
Want to ensure your child is ready for Kindergarten? Attend one of our free, state-funded Pre-K programs! All Sunshine House schools in Georgia offer Georgia Pre-K classes on a first come basis. 
We're one of the largest Georgia Pre-K providers in the state. This means we meet or exceed strict standards for Pre-K program components, curriculum and assessments, and teacher credentials.
School readiness is important. Find out more today! 
Find a Location
Georgia Pre-K Snapshot 
The overall goal of the Georgia Pre-Kindergarten program is school readiness.
Georgia Pre-K emphasizes the following:
Active learning
Consistent daily routines
Positive behavioral management
Assessment strategies
The curriculum includes language and literacy, math concepts, science, social studies, arts, physical development, and social and emotional competence.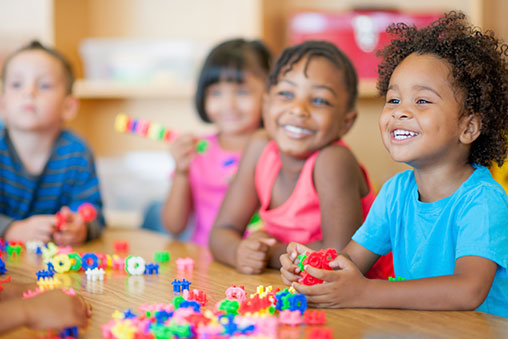 Health & Safety Guidelines
We know that education, development and socialization are important, but your child's safety is what matters most.
Some of the safety protocols we are implementing in your child's Pre-K classroom are included below.


Temperature checks and health screenings for children and staff.
Enhanced cleaning and sanitizing of materials, toys and classroom supplies with particular attention to frequently touched surfaces and objects, like toys and games, doorknobs, light switches, nap mats, and more. 
Increased hand washing.
Limited classroom access.
Increased small group instruction.
Limited larger group instruction, with social distancing in larger group settings (assigned seats in circle time, limited number of children per classroom, etc.).
Learning centers will be enlarged where possible to allow for easier social distancing.
We will limit the number of children using a learning center at any one time.
Meals and snacks will be served in the classroom rather than a communal cafeteria or common space. Family style dining is suspended until further notice.
Family conferences, progress reports and/or assessments normally held in person may be done via Zoom, email or telephone.
For more information on health and safety practices we're observing throughout our building, please visit our Safety and Security section.
Pre-K Program Length & School Year
Georgia Pre-K provides a full 6.5-hour instructional day, 5 days a week, 180 days a year. Extended day services (before- and after-school care) are also available.
Demand often exceeds our available classroom space, so we encourage families to enroll early to secure their slot.
Eligibility / Registration Requirements
Georgia's Pre-K Program is free to all four-year-old children, regardless of parental income. Children must be 4 years of age on or before September 1 of the upcoming or current school year, and a resident of Georgia.
The following is required by the State of Georgia to register your child for this program. Please bring these forms with you for registration:
Child's Social Security Card
Child's proof of age (birth certificate, passport, hospital record of live birth, green card, pink card or Federal I-94 card)
Proof of Georgia residency (utility bill, rental / mortgage agreement or letter from employer)
Completed Bright from the Start enrollment form
Forms required before school begins:
Immunizations (DHR Form 3231)
Hearing, vision and dental examination certificates (DHR Form 3300)
To learn more, visit: www.decal.ga.gov/Prek/
How to Enroll
Pre-K classes are filled on a first-come basis. Call to reserve your spot today!