We are deeply rooted in the communities we serve, and support organizations that share our vision of creating a better world. Each Sunshine House school works to make a difference in their communities and for their local families.
Our annual Give-a-Gobble food drive in November generates thousands of pounds of non-perishable food, which is donated to local food banks across the country.
Many of our schools hold Trike-a-Thons in support of St. Jude's Children's Hospital. Others support the Leukemia/Lymphoma Society in their Pennies for Patients and Bring the Change programs. Others participate in fundraising teams and walks for the American Heart Association or the American Cancer Society.
Some schools make homemade holiday cards for local hospice patients, while others send their homemade holiday, Valentines cards and care packages to our soldiers serving overseas.
Many of our schools partner with local family shelters and domestic violence shelters to provide welcome bags for children. Sometimes a book, crayons and a stuffed animal can do a world of good to comfort a frightened child.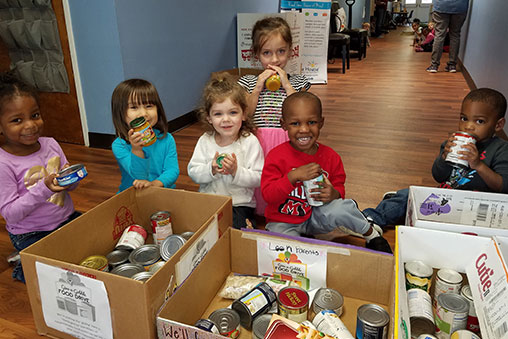 Some schools work with local family services to donate items for "weekend bags," intended for children who rely on assistance for a healthy, warm meal on weekends and when out of school.
Schools organize pajama drives, coat drives, sneaker drives, cereal drives, and other efforts to give back to those in need in their communities. Our school on Wiley Bridge Road in Woodstock, GA recently partnered with Scholastic and held a schoolwide pajama and book drive for the Cherokee County Family Violence Center, donating more than 100 new sets of pajamas and books for needy children.
We are incredibly proud of the community outreach efforts and participation at each Sunshine House across the country. As a company we don't have one national non-profit partner we work with. Why? Because the need varies so greatly from state to state and from community to community.
Below is a sampling of non-profit organizations The Sunshine House partners with to support our vision to create a better world.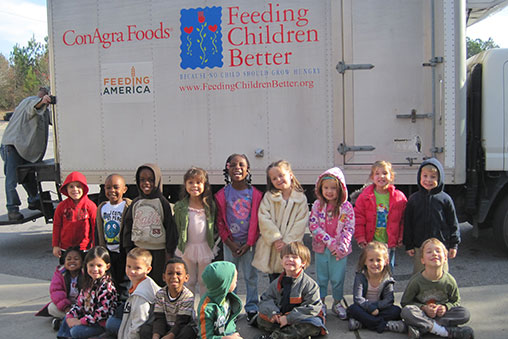 American Cancer Society
American Heart Association
American Red Cross
Bread of the Mighty Food Bank
Caris Hospice
Cherokee County Family Violence Center
Crisis Control Ministry
Early Childhood Council of Larimer County
Food Bank of Larimer County
Fort Collins Interfaith Council
Frisco Family Services
Front Range Community College
Golden Harvest Food Bank
Harvest Hope Food Bank
Leukemia/Lymphoma Society
Little Elm Food Bank
Love Pacs
Lowcountry Food Pantry
Make a Wish Foundation
March of Dimes
National Association for the Education of Young Children
North Plains Library District
Reach Out Lakota
Jude's Children's Hospital
Salvation Army
Scholastic Books
Second Harvest Food Bank
Total Ministries of Spartanburg County
Tranquility House
United Way of Larimer County
United Way of Weld County
Waxhaw Elementary School
Weld County Food Bank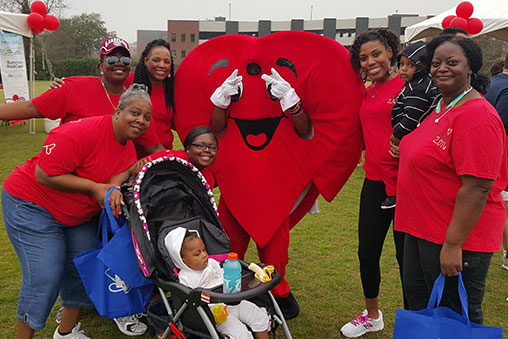 Interested in learning how your Sunshine House supports your local community? Ask your Center Director for more information!