At The Sunshine House, our mission is to provide high-quality care and education — every child, every family, every day!
And we're honored families have trusted us with their children for 45 years. Find The Sunshine House near you!
Free Mobile App
Get real-time photo and video updates of your child, daily reports on diapering, naps, meals and activities, view school calendars and menus, and more! Get updates via text, email or through the app!
Available at select Sunshine House schools. Ask your Director today.
Exploring Spanish & Sign Language
Beginning in our infant classrooms, your child will be exposed to Spanish words and phrases in natural ways.
Your child will also begin learning simple signs (signing) to express themselves, which has a host of developmental benefits!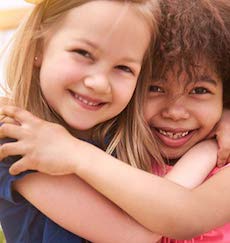 Mornings Start Early. And So Do We.
Get to work on time and avoid the school traffic by enrolling in our before- and after-school program!
We'll provide free  transportation to and from school, serve your child a nutritious breakfast and snack daily, and even provide homework support and assistance!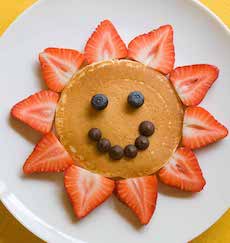 Join Us for a Free Discovery Day!
Finding the right childcare fit for your family is important. That's why we offer a Free Discovery Day to allow your child to experience The Sunshine House before enrolling in our program.
To get started, contact the school you're interested in attending.
Some restrictions apply. Advanced notice required.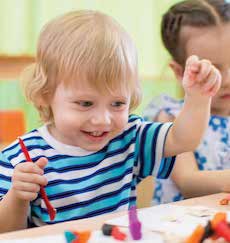 "I absolutely love the Sunshine House! They are great with my kids and with all of the kids there. The staff is awesome and they truly care about all of us. By far this is the best place my kids have ever been!"

"We have absolutely loved everyone who works at this center! They treat my son as he is their own child. I always feel so at ease leaving him there during the day while I'm at work."

"The staff at Sunshine House is the most caring, dedicated group of people I could imagine taking care of my son. I feel confident taking my child there every day that he is going to learn, be cared for, and have a great time. I am extremely grateful for this child development center!"

"We feel like everyone here is part of our extended family. They say that it takes a village to raise a child, and I am so lucky to have chosen these amazing people to be a part of ours. I would recommend this center 100 times over."

"I know that when I drop my children off, they will receive the same loving care and guidance they receive at home. The entire staff is amazing and both of my children have been blessed with awesome teachers. Thank you Sunshine House for a wonderful child care facility and experience that engages and teaches with love, patience and kindness."