Bright Futures Start Here.
At The Sunshine House, our goal is to ignite your child's passion for learning and prepare them for success in school and in life.
Everything we do focuses on the development of your child – from literacy, math, science, and social studies to social-emotional and physical development.
There's a reason behind everything we do. If you aren't sure, please ask us!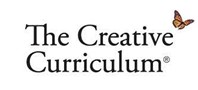 Creative Curriculum®
We are proud to use the award-winning Creative Curriculum® in our educational childcare, preschool, Pre-K and school-age classrooms, blended with the latest research into early education and brain development. We use this curriculum because we know the power it has to build a solid learning foundation for your child. It is also one of the few curriculums approved by every State Department of Education in the country!
Creative Curriculum® teaches exploration and discovery as a way of learning -- and teaches children to be creative, confident thinkers.
With a combination of small and large group and individual experiences in our childcare classrooms, we provide activities targeted toward 9 essential developmental areas:
Social-emotional
Physical
Language
Cognitive
Literacy
Math
Science & technology
Social studies
Arts
For more information on Creative Curriculum® and how it's used in your child's classroom, please ask your Center Director.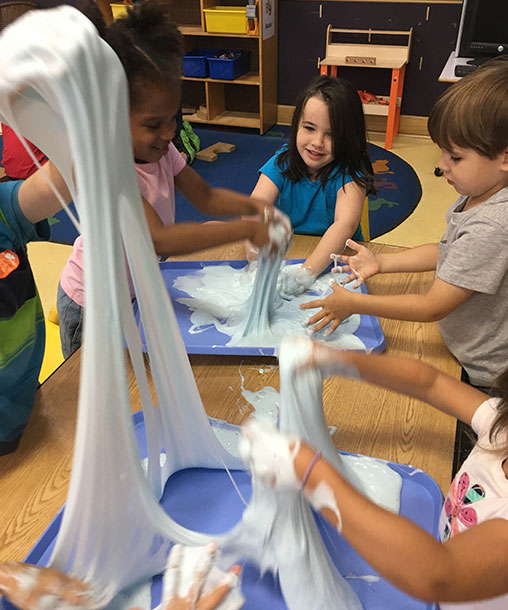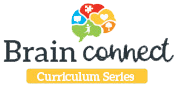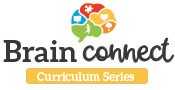 Brain Connect Infant Curriculum
Your baby is 100% unique, and so is our infant curriculum!
Our exclusive infant curriculum is designed around the 5 building blocks of brain development and ensures your baby progresses toward important developmental goals, including critical thinking, language, movement, relationships and sensory.
When your infant is playing, your baby is also learning. We've created 1000s of play-based activities based on the 5 components of brain development. And each activity is designed for a specific purpose.


Each week your primary caregiver will create an individualized lesson plan for your baby.
The lesson plan is unique to your child, with at least 6 activities selected for your child's interests and development goals.
A new lesson plan is created weekly, though some activities may be repeated.
The lesson plan is posted in the nursery, so you can always review your baby's weekly plan.
Learn more about our Brain Connect Infant Curriculum and our infant childcare program.
Brain Connect Toddler & Early Preschool Curriculum
From first steps to first friendships, our Toddler & Early Preschool Curriculum attends to your whole child -- body, mind, and spirit.
The perfect compliment to our Brain Connect Infant Curriculum, this curriculum continues the brain-based learning continuum. Your child will enjoy activity centers like:
Language
Math & science
Creative arts
Dramatic play
Music and movement
Learn more about our exclusive Toddler Curriculum and our toddler daycare program.

Spanish & Sign Language
We incorporate two additional languages into our educational daycare and preschool programs – Spanish and Sign Language. Why? Research shows that early exposure to second (or third) languages provides children with multiple developmental benefits, including:
More advanced first language skills
More ease in speaking a second language later in life
Greater cognitive functioning
More advanced literacy acquisition
Greater cultural understanding
Beginning as early as our infant program, your child will be exposed to Spanish words and phrases in natural ways, and are invited to use them throughout the day.
Your child will also begin learning simple signs (signing) to express themselves. This empowers your child to communicate before developing the ability to speak.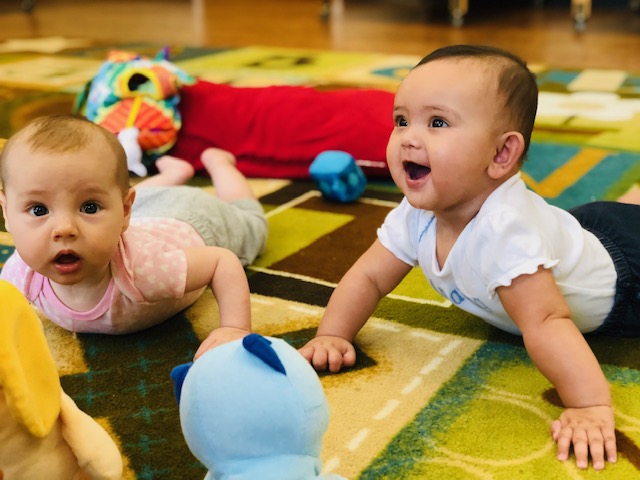 Seeds of Literacy | Literacy, Self-Esteem & Character Building Program
Our exclusive program, Seeds of Literacy, uses children's literature to help your child's literacy and character development through shared reading, interactive discussions, and engaging small groups. And, hopefully, instill a lifelong love of reading!
Each month, a new adventure begins! Your child's teacher will read a story using a set of techniques designed to build on your child's understanding of literacy concepts and encourage the development of positive character traits, including kindness, empathy, self-esteem and confidence.
Through these experiences, your child will build an understanding of literacy concepts, story comprehension, book knowledge, and the connection between oral and written language.
Ask your teacher or Center Director for more information on this month's book – or look for the Seeds of Literacy display in your child's classroom!


NFL Play 60
We've partnered with the National Football League to provide your school-age child with NFL Play 60 – the NFL's program to encourage children to be active at least 60 minutes a day. Your child will track activity toward meeting goals, participate in fun outdoor games, such as relay races, tug of war, soccer, and more! Most importantly, your child will learn the value of at least 60 minutes of activity each day. Visit www.nfl.com/play60 to learn more.

Educational Programs Designed for Children 6 Weeks to 12 Years 
Bright Futures Start Here! At The Sunshine House, your child will build a strong educational and social foundation -- with all the fun of childhood mixed in. Our programs focus on school readiness, social, emotional and intellectual development, and what every child needs -- love and care!
Contact one of our schools today to learn more and to schedule a tour.