Pre-K for 4 to 5 Year Olds
The best Pre-K programs inspire children to be curious about how things work, how to find answers to problems, and spark a lifelong love of learning. And that is our goal for your child! 
Our Pre-K program prepares your child for success in Kindergarten and beyond. Our early education programs use the award-winning Creative Curriculum®, and provide fun experiences in language, math, science, social studies, music and art. We build on your child's interests to plan lessons that are both relevant and engaging.


Pre-K Development Areas
Social-Emotional
Physical
Language
Cognitive
Literacy
Math
Science & Technology
Social Studies
Arts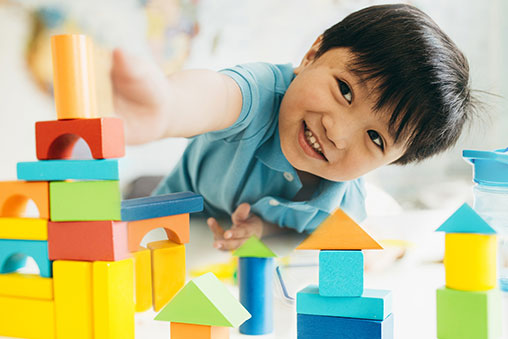 Assessments & Goal Tracking for School Readiness
It's important for you and your child's teacher to measure progress and set goals to ensure school readiness. In our Pre-K classroom, we use a comprehensive assessment tool called the 38 Objectives for Learning and Development to ensure a successful transition into Kindergarten.


Literacy, Self-Esteem & Character Development Program
Our exclusive Seeds of Literacy program uses children's stories to help your child develop important early literacy skills, including letter recognition, vocabulary development, letter-sound correlation and more.

The program also explores character development as your child explores character traits such as patience, kindness, self-esteem and confidence, acceptance and leadership.
Look for the Seeds of Literacy board in your Pre-K classroom to find out more.


Spanish Program
In The Sunshine House's Pre-K program, we incorporate age-appropriate lessons in Spanish and begin to introduce practical Spanish words and phrases. Learning a second language at an early age provides children with multiple developmental benefits, including:
More advanced first language skills
More ease in speaking a second language later in life
Greater cultural understanding
More advanced literacy acquisition
Greater cognitive functioning


Sample Pre-K Goals
Follow classroom rules, routines and transitions with occasional reminders
Develop verbal language skills; communicate needs and feelings
Learn to play cooperatively with others; share and use acceptable manners 
Know, recognize, spell and write their name
Understand time concepts (months, weeks, days, before and after)
Demonstrate confidence in meeting own needs (i.e. wash hands and use towel to dry, use materials, utensils and brushes appropriately)
Identify colors; identify and match shapes; recognize numbers 1-30
Accomplish grand movements, such as hopping, jumping and skipping


Our Commitment to Health & Safety 
Nothing matters more than your child's health, safety and security. That is why we take every precaution to ensure your child is safe and secure when they spend their day with us.
Every Sunshine House follows our strict health, safety and disinfection guidelines based on current recommendations from the CDC. Each school also has a restricted-entry system, staff trained in first aid and CPR, and most schools have security cameras in all classrooms. Please visit our Health, Safety & Security section for more information.