Early Preschool & Explorer Childcare Programs
In our early preschool program, your active 2- or 3-year-old will participate in engaging experiences and environments that support the development of their brain, body and social-emotional skills.
The educational childcare program is designed to provide the structure and support your child needs during this important transition from toddlerhood to preschool.


Our Curriculum
The foundation of our early preschool curriculum is Creative Curriculum®, a nationally-recognized, award-winning program that supports your child in developing critical skills. We enhance this curriculum with the latest research into brain-based development, available only at The Sunshine House.
Literacy, Self-Esteem & Character Development Program
Our exclusive Seeds of Literacy program uses children's stories to help your child develop important early literacy skills, including letter recognition, vocabulary development, letter-sound correlation and more.
Your child will also explore character traits such as patience, kindness, self-esteem and confidence, acceptance and leadership.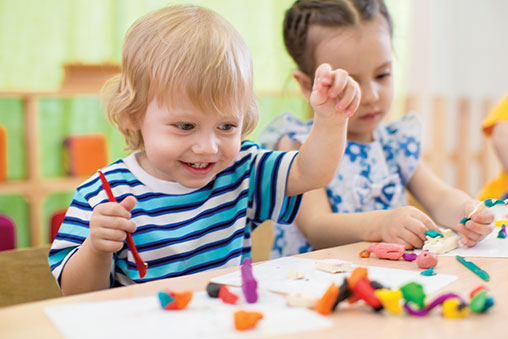 Spanish & Sign Language
We incorporate two additional languages into our early preschool program – Spanish and Sign Language. Research shows that early exposure to second (or third) languages provides children with multiple developmental benefits, including:
More advanced first language skills
More ease in speaking a second language later in life
Greater cultural understanding
More advanced literacy acquisition
Greater cognitive functioning
Inside Your Child's Day in Early Preschool:
Relationship-building exercises, critical thinking, sensory and language experiences
Small group learning experiences
Story time that includes Seeds of Literacy, focusing on literacy skills and character development
Music and movement
Outside time


Our Commitment to Health & Safety 
Nothing matters more than your child's health, safety and security. That is why we take every precaution to ensure your child is safe and secure when they spend their day with us.
Every Sunshine House follows our strict health, safety and disinfection guidelines based on current recommendations from the CDC. Each school also has a restricted-entry system, staff trained in first aid and CPR, and most schools have security cameras in all classrooms. Please visit our Health, Safety & Security section for more information.