It's the summertime, and everything feels a little more relaxed. Less structure (for yourself and your kids) during the summer is completely normal, and it can be beneficial to rest and let loose a little. But with less structure, it can be easy to slip into junk food snacking.
That's why we've put together a list of quick and healthy kid-friendly summer snacks for your family to enjoy all summer long!
Honey Cream Cheese Apples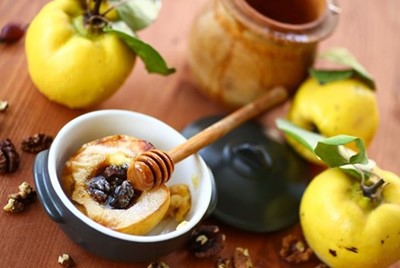 A quick and easy snack is hard to beat, especially when you can eat it any time of the day! Start your kids' day off with this delectable breakfast or end it with this sweet treat.
Core and slice an apple for dipping.
Combine cream cheese with a little honey.
Add in almonds or raisins, and you're ready to go!
Try out a few different versions of this recipe to see what your children enjoy most.


Chewy Granola Balls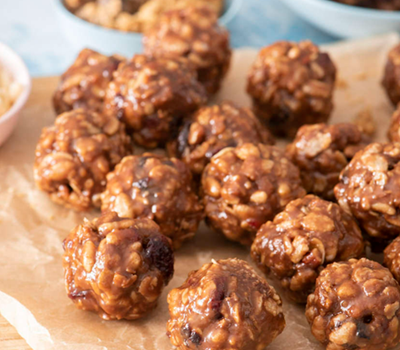 If you're looking for a healthy and filling snack for you kids, we've found it for you. The perfect combination of crunchy and sweet, these chewy granola balls are easy for on-the-go snacking. Gather your ingredients and make a large batch to last a few days!
Combine and warm ½ cup of almond butter and ½ cup of rice syrup in a saucepan over low heat.
Stir until smooth.
In a bowl, combine 1 cup of Rice Krispies cereal, 1 ½ cups of granola, and ¼ cup of finely chopped dried fruit (raisins, cranberries, cherries, blueberries, etc.).
Pour the warm almond butter mixture into the dry ingredients. Stir to combine. Add in a few chocolate chips to amp it up, if desired.
Roll the mixture into 1-inch balls, and serve!
Store in the refrigerator for a few days of snacking.


Mango Fruit Rolls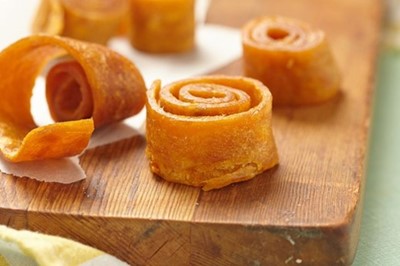 Think Fruit Roll Ups, but made healthy. We get a little nostalgic thinking about the days of Fruit by the Foot in our lunch boxes, but why not try a healthier version? This one-ingredient fruit roll is easy and tastes like candy.
Start by preheating the oven to 175 degrees.
Blend two or three mangoes (we suggest buying pre-sliced mangoes, unless you want to deal with peeling and pitting).
Lay out parchment paper on a baking sheet, and evenly spread the mango puree onto the parchment paper, about 1/8 inch thick.
Bake in the middle rack for about 3-4 hours, then let it cool.
Slice into strips, and roll!
These can last a few weeks refrigerated, and they're a simple snack your kids can grab on the go!


Greek Yogurt Veggie Dip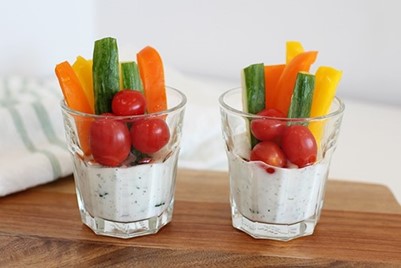 We all know the mantra, "Eat your veggies!" but sometimes it's hard to follow. This protein-packed Greek yogurt veggie dip is perfect for the dipper or the dunker of the family.
Mix together 1 cup of plain Greek yogurt, 1 teaspoon of lemon juice, ¼ teaspoon of dried dill weed, and 1/8 teaspoon of black pepper.
Add in ½ teaspoon each of the following herbs and spices: garlic powder, onion powder, dried parsley, dried chives, and salt.
Mix until smooth and blended.
Slowly add in ¼ cup of milk, a little at a time, thoroughly mixing until you've reached your desired consistency.
Then, slice up a few veggies and you're ready to go.
It's a slam dunk in our book!


Strawberry Ice Cream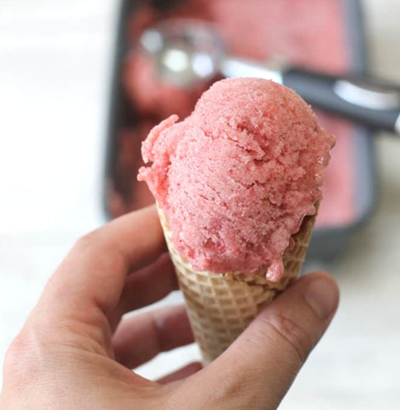 There's nothing like cooling off with a sweet treat in the summertime! Did we mention this is healthy ice cream? You heard that right. This two-ingredient ice cream is made from just strawberries and bananas – but your kids don't have to know that.
Wash and dry 9 ounces of strawberries, then cut them into halves or quarters.
Peel 4 bananas, then chop them into 5 pieces each.
Place fruit into a plastic baggie, release the air and seal.
Freeze overnight.
Once the fruit has frozen, place fruit into a food processor and blend until smooth.
Pour the mixture into a loaf pan and cover with plastic wrap.
Freeze for one hour, then scoop and serve!


We know that getting kids to eat healthy foods can be a challenge, but these snacks are a sure way to introduce healthy habits to your kids! They're quick, easy, and even fun to make. Let your kids join in on the fun of making these healthy snacks and you'll have cherished memories that will last a lifetime.